First For Book Tokens Online
National Book Token Gift Cards are available to buy here, with no charge for delivery within the UK & Ireland from us, the very first ever direct mail order suppliers of Book Tokens. All internet sales today, in conjunction with the largest range of free official gift cards, are accessed from this page. Please scroll to view our current designs, all ready to load and dispatch below with the values of your choice.

2 free book-marks will be included only here, when we post direct to a recipient, as gift on your behalf. Plus we will never charge you an additional £1.99 for a token gift card, unlike some suppliers which now do. There are no changes to our mail-order services during this Coronavirus pandemic.
7 day telephone ordering service 10am - 8pm or secure online purchasing:
free phone 0800 6125350 UK mobiles included.
We will dispatch your order tomorrow!
(spend £100 or over, receive it fast & tracked)

Pay next month on account, when buying for a Church, College or School etc: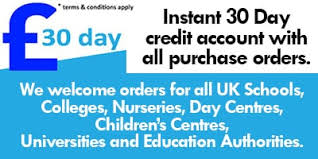 National Book Tokens, mailed free on the next working day, now come standard as handy gift cards valid to spend at:
Blackwells, Daunts, Easons, Foyles, Hatchards, Smiths, Waterstones.
Plus most smaller independent UK & Ireland Bookshops, also online.
We have been a member of the Booksellers Association since 1988 and selling books since 1974, then became the 1st website in the world to sell original paper UK Book Tokens online in 1999, these now replaced by 'token cards' to purchase here today. If you are buying for an Authority, that's a Church, College, School or University etc., we can offer account facilities, so please click on the above credit account logo link to find out more.
Browse and then choose below, from the largest range online, of free gift cards. Each one comes with its own individual envelope. Alternatively, if you already know exactly what you want, simply go straight to BUY
There are lots of everyday gift cards shown here and a link for the XMAS DESIGNS
Please remember the design name when proceeding to our secure ordering form, as you will be asked to re-confirm that when paying. This is to ensure the correct card is sent, as we do not want to disappoint.
There's over 40 National Book Token Cards in total, that's more variations free and ready to purchase now, than any other supplier:
| | |
| --- | --- |
| | |
| COLOUR IN DESIGN ONE | COLOUR IN DESIGN TWO |
| FREE BOOK MARKS TO COLOUR | FREE GREETINGS CARD TO COLOUR |
| | |
| --- | --- |
| | |
| CHARITY DONATION DESIGN | HARRY POTTER AND THE |
| EXTRA 1% GOES TO BOOK AID | HOGWARTS EXPRESS DESIGN |
| | |
| | |
| --- | --- |
| | |
| BIRTHDAY DESIGN ONE | BIRTHDAY DESIGN TWO |
| | |
| --- | --- |
| | |
| BIRTHDAY DESIGN THREE | BIRTHDAY DESIGN FOUR |
| | |
| --- | --- |
| | |
| DAHL MATILDA DESIGN | HORRID HENRY DESIGN |
| | |
| --- | --- |
| | |
| BOOKS ARE MY BAG DESIGN | DAHL BFG DESIGN |
| | |
| --- | --- |
| | |
| BOOK ENDS DESIGN ONE | BOOK ENDS DESIGN TWO |
| | |
| --- | --- |
| | |
| GRUFFALO DESIGN | GREEN FINGERS DESIGN |
| | |
| --- | --- |
| | |
| JUST WALLIAMS DESIGN | DIARY WIMPY KID DESIGN |
| | |
| --- | --- |
| | |
| BLUE BOW DESIGN | CROSS DESIGN |
| | |
| --- | --- |
| | |
| BOOK PAGES DESIGN | BOOK HEART DESIGN |
| | |
| --- | --- |
| | |
| BOOK SHOP DESIGN | TRACY BEAKER DESIGN |
| | |
| --- | --- |
| | |
| FLOWER BOOKS DESIGN | WINNIE THE POOH DESIGN |
| | |
| --- | --- |
| | |
| KEEP READING DESIGN | WE WANT BOOKS DESIGN |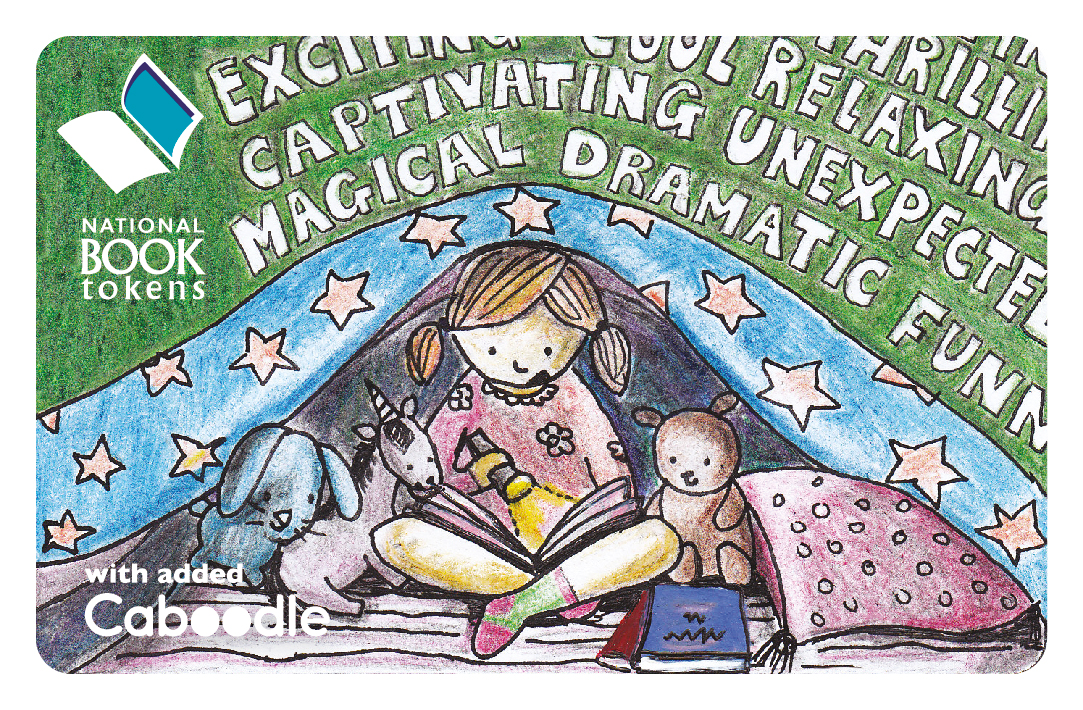 UNDERCOVER DESIGN
2018 WORLD BOOK DAY WINNER BY ELEANOR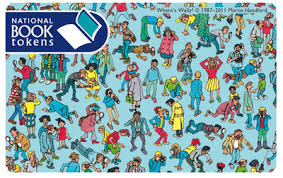 WHERE'S WALLY DESIGN
BESTSELLER HERE FOR 10 YEARS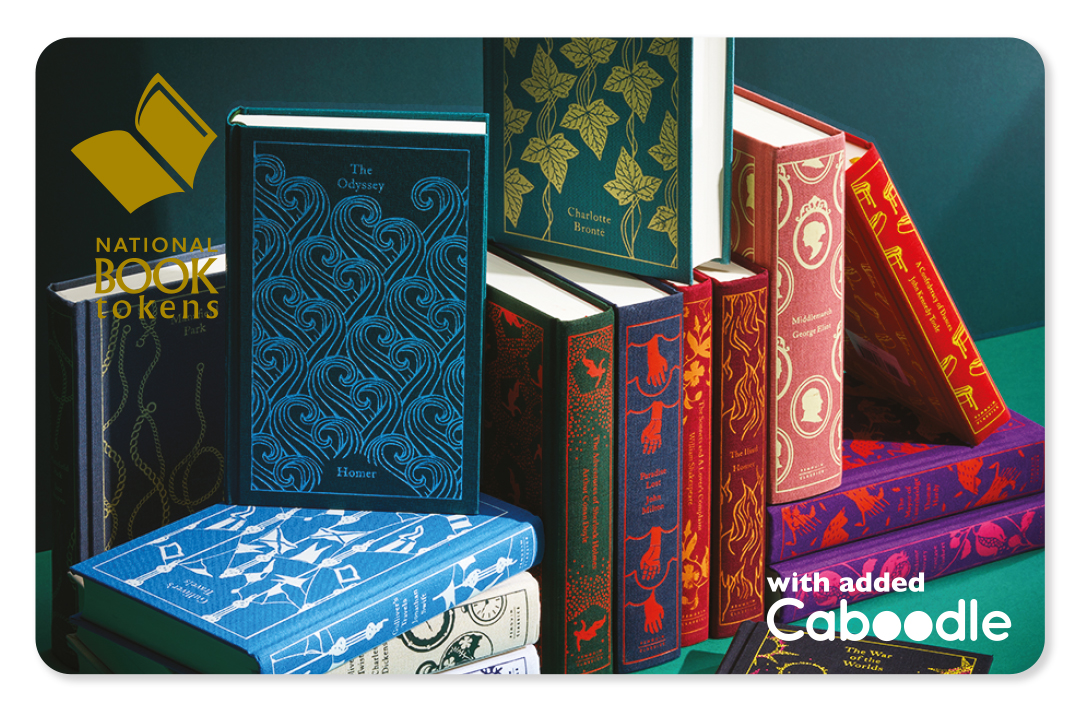 BEAUTIFUL BOOKS DESIGN
NEW DURING AUTUMN 2020
Click on a free card of your choice from those shown above to proceed. At the next page you will then be able to load any number of cards, with the values required and pay securely online. All the gift cards here are free, unlike at some websites, where you could be charged £1.99 for a design.
FOR CHRISTMAS TOKEN CARDS PLEASE CLICK HERE TO SEE THE 10 FESTIVE DESIGNS!
Elsewhere, you will be offered a restricted choice of free Book Token designs ready to dispatch now, or limited loading values to go onto each card. Most other websites will not allow you to order and pay for Book Tokens in bulk, for example £10 x 150. Because of this, we supply most Colleges, Schools and Universities in the UK. That's a service which we first started in 1987 by telephone and catalogue, long before the internet became popular!
If you want to top-up a National Book Token that has already been purchased, here's the number to call: 0800 6125350 and it is the only free telephone number for top-ups within the UK available daily 10am until 8pm.
We were thrilled to have been the 1st Bookshop in the world to fulfil orders for National Book Tokens with free delivery, securely via the internet and redeem them, long before anyone else. Today our free Royal Mail Special Delivery service is still unmatched by any other company (minimum order applies). Read our customer feedback here: Testimonials
The Times London: August 16, 2000, Wednesday. 'Web World' www.firstbookshop.com ''This enterprising bookshop has gone online to provide Book Tokens - seemingly an Internet first. The tokens can be exchanged at over 3,000 bookshops in Britain and Ireland"
TO REDEEM BOOK TOKENS GO HERE TO CHECK CARD BALANCE GO HERE
TO BUY GIFT CARDS ONLINE SECURE IT'S HERE
The Independent London: August 10, 2002, Saturday. 'Features' World Wide Web: 10 Best Sites Of The Week. www.firstbookshop.com "This is currently the "only bookshop to offer book tokens online" (the national book gift voucher scheme). Originally a small-town bookshop, it claims to be "beating the big boys at their own game", and while it doesn't quite match Amazon for size or quality of presentation, book fiends are bound to unearth something here that appeals"
Quote from the late Lady Antonia Fraser - Author
"I had a favourite aunt who always gave me a Book Token each year so that I began to count on it and select the book in advance in my imagination. I always remember my horror when she sent me a dozen handkerchiefs with a note saying she thought I was getting too old for Book Tokens! No one is ever too old for Book Tokens"



Happy Family Service



Inspired by the quote above, Great Britain's First Bookshop are now taking orders for recurring occasions, annually. Just email us with your list of regular occasions, when Book Tokens (or indeed Theatre Tokens) would make a perfect gift and leave the rest to us! No more forgotten Birthdays or last minute Christmas shopping, on your instructions we will take care of everything, post free UK & Ireland forever, or until you tell us otherwise. 126 satisfied customers are currently subscribing to this free service (correct at 20/12/20) so why don't you join our 'happy family' today:
email your request to: tokens@firstbookshop.com

1st Bookshop ~ First For Book Tokens Online 1999.

For worldwide gift token deliveries, outside UK & Ireland, we make a subsidised charge of £5 to send your order overseas insured and guaranteed. This means we are now able to send gift cards across the globe, with secure shipping charged to you below cost - most other Book & Theatre Token retailers are unable to do this. To choose that option, please add the fee where indicated when paying.
Here is the only telephone number you need to purchase Official UK Gift Token Cards:
BOOK TOKENS & THEATRE TOKENS
FREE 0800 6125350 UK ONLY.
From overseas it's 0044 77690 33646
We aim to answer all calls personally, but at busy times this is not always possible - lines are however always open 7 days from 10am until 8pm.


CLICK HERE FOR THIS MONTH'S FEATURED SERVICES


CUSTOMER SUPPORT FOR BOOK TOKENS & THEATRE TOKENS ENQUIRIES:
THE PREMIER GB BOOKSELLER SINCE 1974
~ over 45 years of bookselling expertise ~
'FIRST FOR BOOK TOKENS FOREMOST FOR THEATRE TOKENS'

WEBLOG: we have been blogging since 2005
Click on the bookworm to read !